I have been waxed you know where twice. Once for my honeymoon and once years later when I purchased a groupon for a deal that couldn't be passed up. Both times I left asking myself what type of self-hatred issues I must have to put myself through such medieval torture. But after the traumatics have worn off, I've been pleased with the results. It's long lasting, clean cut, and sessy ;-)
Aileen over at makeup and beauty blog,
Shades of U
(and creator of Sonoran, a beautiful new dark coral lipglass for the MAC Bloggers Obsession collection), posted an article from totalbeauty.com featuring some interesting facts about waxing.
#3 regarding cleanliness (or lack thereof) totally makes me want to puke!
#9 about being overly dramatic about the pain makes me wonder if maybe I haven't met the right waxer yet. Because that crap hurts!!! Right up there with childbirth lol! And I have a high tolerance for pain. I don't scream or anything but there has definitely been some flinching, wincing, and a few tears escaping from my eyeballs.
And #12 definitely caught me by surprise. For me, double-dipping is a definite yuck! And most of the commenters agree. Hmmm...

Get the behind-the-scene secrets for everything you need to know about getting waxed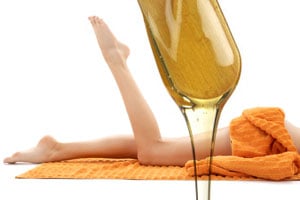 From TotalBeauty.com
Ever wonder what's going through your waxer's mind while you're spread eagle on their table? You could ask, but that whole hot-wax-in-your-private-area thing can be a little preoccupying, which is why we tracked down waxing pros and asked them the awkward questions for you. You're welcome.